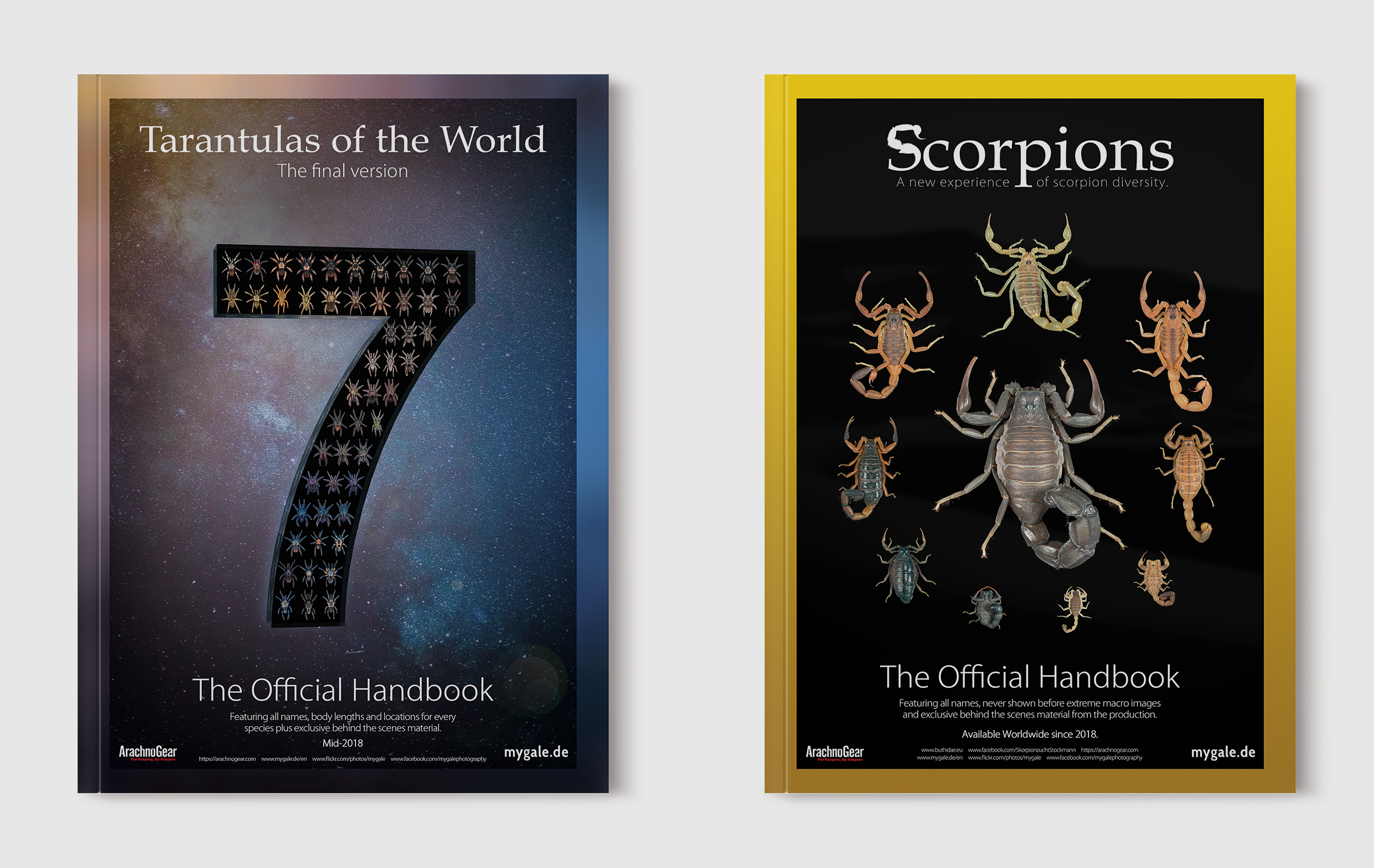 You can order the posters which include a book here: arachnogear.com  After the purchase, a PDF download will be available in your ArachnoGear member area under "Downloads". Please note that the handbook is only available as a PDF download and only in English. There is no printed version available yet.
---
The official "Tarantulas of the World" handbook
With over 6000 words and over 55 images, does it feature tons of information about the history of this poster series, its production, and tons of other original photography from me.

---
The official "Scorpions" handbook
With over 9200 words and over 90 images, does it feature tons of information about the production of every scorpion poster: from the organization, the photography and editing part to creating the promo images and the exclusive extreme macro images used in it.


---
Books
Sind die vorherigen Versionen noch erhältlich?
Nein, Version 3, 5, 6 und 7 der "Tarantula of the World series" sind nicht mehr über ArachnoGear erhältlich. Wir denken allerdings darüber nach sie wieder erhältlich zu machen, da einige die Namen auf den Postern bevorzugen.
Die Bücher
Mit über 6000 Wörtern und über 55 Abbildungen, enthält das "Tarantula of the World series" Handbuch unter anderem zusäzliche Informationen über die Geschichte der Serie, derer Produktion (behind the scenes) und eine Liste mit allen Namen der abgebildeten Tiere!
Sie bekommen dieses, sowie das aktuelle Skorpion Handbuch, aktuell nur zusammen mit den dazugehörigen Postern auf ArachnoGear. Das digitale Handbuch sollte kurz nachdem das Poster versendet worden ist im Mitgliederbereich zum Download bereit stehen. Sollten Sie das Buch nicht finden und der Suppport innerhalb von 2 Werktagen nicht antworten bin ich gerne behilflich. In dem Falle bitte den Kaufbeleg mitsenden.
Bitte beachten Sie, dass es das ausschließlich englischsprachige Handbuch nur als Download gibt und nicht als Printausgabe. In Zukunft werden die Bücher einzelnd zu erwerben sein ohne die Poster.
Mehr FAQ
Beide Handbücher enthalten eine eigene FAQ Sektion auf Seite 7, die beinhaltet:
→ The benefits of the new concept
→ The last version?
→ Where are all the other males?
→ Why is XYZ still not included?
→ Is there a newer version of this book?
→ How can I use my own layout with the list?
→ Fake news?
→ Why is the price higher compared to the other posters? (Scorpions only)